Andrew Smith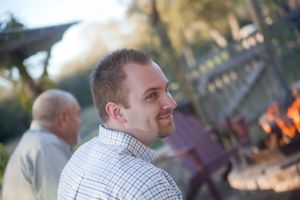 Name: Andrew Smith
Group Position: Piano
Date of Birth: November 22



Since his early childhood, Andrew has had a passion for piano and a love for Southern Gospel music.  Andrew began playing piano at the age of four years old. 

Andrew's family group, The Singing Smith Family, formed in 1987 as parents, Dale and Peggy, and twin brother, Matthew, started traveling to churches all over North and South Carolina spreading the good news through song.  All throughout his school years, Andrew continued playing with his family ministry and made three family recordings.   After graduating from East Columbus High School in Lake Waccamaw, NC, he began college and later joined the Dove Brothers Quartet of Bladenboro, NC. Andrew performed with the Dove Brothers from December 2002 to May 2005.  During that time he was nominated and awarded the Singing News Fan Awards Favorite Horizon Individual of 2003. He now lives and works in the Clear Lake Houston area as a financial advisor with Edward Jones and is the proud father of his two daughters, Jordyn and Addisyn.